Books
Machinery Vibration: Measurement and Analysis
1991 (368pp, 245 illus, ISBN: 0070719365)
See on-line sources below for purchasing information.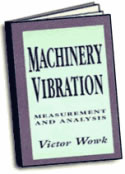 Machinery Vibration: Measurement and Analysis will show you how to use state-of-the-art instrumentation, transducers and fast Fourier transform (FFT) spectrum analyzers to monitor machine conditions using the vibration signature. This expert sourcebook includes:
Case histories that illustrate strategies for solving machinery problems, from unbalances and misalignments to vortex flow and turbulence.
A diagnostic chart for assessing the severity of vibration.
An overview of technology used in "trending" machine performance.
Guidelines for setting up a vibration monitoring system.
Many illustrations throughout the book.
Whether you're a plant or mechanical engineer, maintenance engineer, facility manager, mechanic, or technician, this excellent book will enable you to troubleshoot mechanical problems and improve machinery performance.